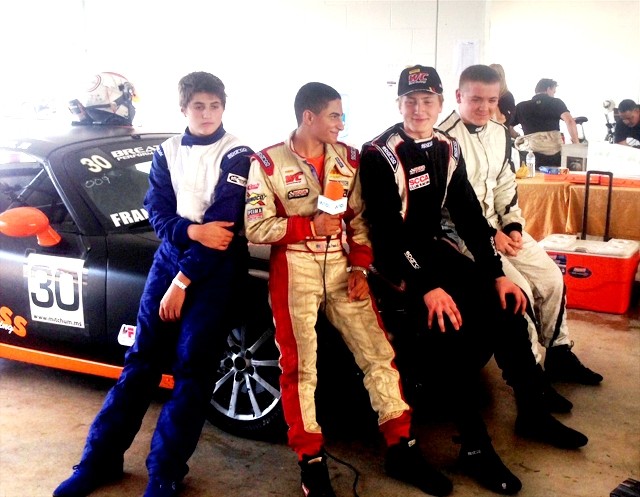 Mark Klenin came home with a win and and podium finishes in almost every race he entered. His Aston Martin Vantage ran perfect the entire weekend and got quicker every session.
Ernie Francis Jr in his GTS Camaro collected 2 wins and a 2nd place finish in the 3 races he entered with the car. Ernie also drove the new Breathless Performance Mazda Mx-5 cup car to a 3rd place and class win in the enduro teaming up with Jason Cherry.
Jason Cherry ran quick from the start of the weekend. His Mx-5, at its first ever race, had some tranny issues that put him out of contention for a win. Even with the issues, he went out and ran competitive lap times. Ernie Jr and Jason Cherry decided to run the enduro together and brought home a class win by 4 laps.
Jason Fichter ran his Mini Cooper TCB car strong all weekend. He was showing good consistency and speed every session. Brent Klenin drove in his one of his first races this past weekend. He greatly improved in speed throughout the weekend. The whole team is looking forward to the season to start and to bring home some good results.
Our next race will be this coming weekend at Sebring in the Trans Am Road Racing Series with Mark Klenin drivng his Aston Martin, Fernando driving his Camaro and Ernie Jr driving his Camaro.
Full article can be seen here: http://www.breathlessperformanceracingteam.com/newsandevents/farahomestead20002232014.html