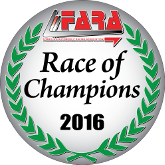 Race of Champions Track Information
Track Length: 2.23 Miles
Track Configuration:
Schedule: Race of Champions Schedule
PDF's of results: Sprint 1, Sprint 2, Sprint 3, Sprint 4, Race of Champions
Race Information
The next FARA event is the upcoming 2016 Race of Champions at Homestead-Miami Speedway on
Friday, Saturday & Sunday September 9-11, 2016. This event will be featuring Sprint Races,
practice and qualifying on Saturday, and the main event The Race of Champions on Sunday. Also
various food trucks, Vendors and for the kids we have the "Autism Soccer Kids Zone". The PIT BOX
VIP will be open on Sunday from 11:30 AM. The Saturday before the event will host the HPDE
Driven to Perform Driving Academy for all street cars. For more information visit us regularly for any
updates. Courtesy tickets are available from many of our sponsors and vendors. Entry at the gate
will be $25.00 for all who don't have tickets.  Gates open at 9 AM Saturday & Sunday.