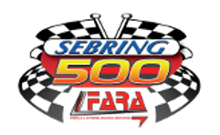 Sebring 500 Track Information
Track Length: 3.74 miles
Track Configuration: Full Course
RACE INFORMATION
Pack a cooler and bring the entire family!
The next FARA event is the upcoming 2018 Sebring 500 on Saturday & Sunday July 7-8, 2018. This event will be featuring "The Sebring 500" 4 Hour endurance race on Saturday July 7th, and 4 Sprint Races on Sunday July 8th. The event will also host the Driven to Perform Driving Academy for all advance drivers. Courtesy tickets are available from most Alan Jay Automotive dealerships in the Sebring area.
Entry at the gate will be $10.00 for all who don't have a courtesy ticket. Pay only for parking with the courtesy ticket, $20 parking fee gives you access to the Paddock area and the Fangio & Gurney terrace located on top of the pit boxes facing the start finish line.
Gates open on Saturday at 12 noon, Sunday from 9:00 am to 3:00 pm
Click to get your courtesy
Ticket: http://www.farausa.com/eticket/