This week I decided I should update you on a few things that we've updated on this website.  All the info I'm about to tell you is located at the Race Forms & Rules page.  Alright now on to the good stuff.
The first thing we've done is put up a Hankook User Guide and Catalog, to help you out with any potential setup questions you may have.
Next we have the Hankook Spec Tire Info pdf that gives you an overview of the rules in regards to the Hankook tires.
Then we have the new FRRC enduro and sprint championship info.  Don't know what that is? Well then you might want to click the link and find out.
Finally we have a handy guide to help you out in setting up your new X2 Transponder.
Hope everyone enjoyed the updates, thanks everyone.
Here's the new bonus structure for this year, more details to come.
FARA Sprint Bonuses (per class):
1st Place: $1,500
2nd Place: $1,000
3rd Place: $500
Sprint Bonus is awarded for championship finishing position at the end of the year.
FARA Enduro Bonuses (per class):
1st Place: $500
2nd Place: $250
3rd Place: $150
Enduro Bonus is awarded for the finishing position at the end of every enduro.
Ladies and Gentlemen, I present to you the 2016 FARA Champions:
| | |
| --- | --- |
| FP-1 | |
| Sprint | Endurance |
| Danny Van Dongen | Danny Van Dongen |
| MP-1A | |
| Sprint | Endurance |
| Juan Vento & Frank Airoa | Sergio Lagana & Alan Hellmeister |
| MP-1B | |
| Sprint | Endurance |
| Adam Yunis | Juan Vento & Frank Airoa |
| MP-2A | |
| Sprint | Endurance |
| Warren Cooper | Warren Cooper |
| MP-2B | |
| Sprint | Endurance |
| Sebastian Corazo & Bryan Ortiz | Robert Booth |
| MP-3A | |
| Sprint | Endurance |
| Carlos Grinaldo | Camilo Rico |
| MP-3B | |
| Sprint | Endurance |
| Alberto de las Casas & John Pasch | Alberto de las Casas & John Pasch |
| MP-4A | |
| Sprint | Endurance |
| Rodrigo Ospina | Rodrio Ospina |
| MP-4B | |
| Sprint | Endurance |
| Ricardo Rey | Bryan Horowitz |
| MP-4C | |
| Sprint | Endurance |
| Angel Acosta | Herbert Gomez & Chris Boris |
Registration coming soon.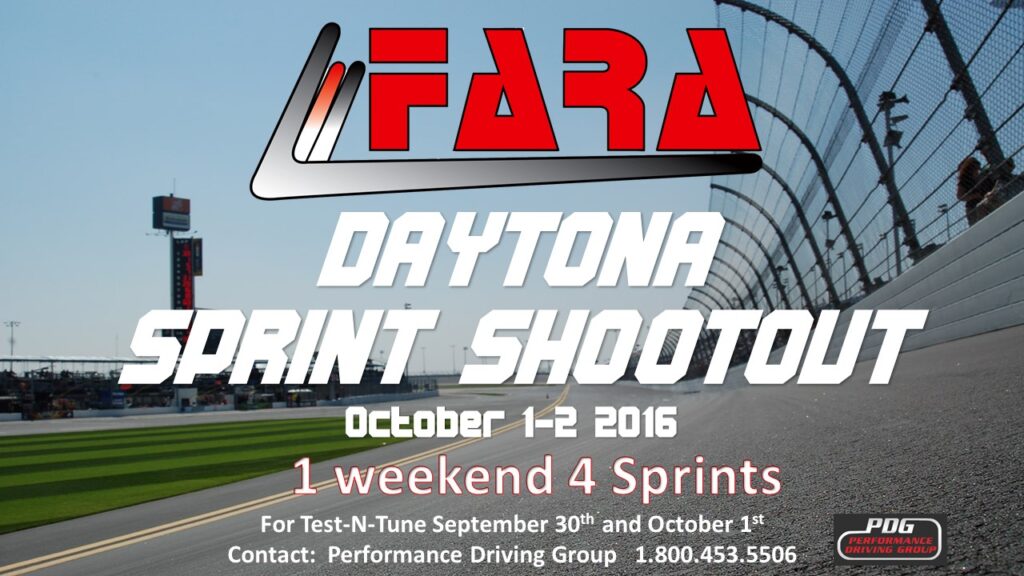 Registration for our next event, the Sebring 500, is now open.  Head on over to the registration page to sign up.
Come and get it everybody, we just finished posting the new schedule for the sunset 500.  You can get it here at the event page or here at the academy page.  Get your cars ready it's just a few weeks away.
We've updated this site with a bunch of new stuff. First off we've added the new E-tickets to the site, so download them at the link on the top right side of the home page. Second we've updated the 2016 Championship Points standings to reflect the recent Homestead 500 race, you can go to the top menu and hover over 'Race Info' then to 'Point Standings' to see them. There's also a new video we wanted everyone to see, it has some really nice aerial shots of the track and the race, go check it out at the bottom of the home page.
  Autism Soccer Program
We have been working with children with Autism Spectrum Disorders for a long time and suddenly I was presented with the chance to work with children with different special needs.
I am amazed with the speed with which they have learned the exercises and with the enthusiasm and passion they display in playing this sport. My experience has been beyond anything I could have imagined!
The support from the parents surpassed my expectations. Their love, patience and humanity are nothing short of pure excellence.
Our program not only teaches fundamental soccer skills, but also fosters self-confidence, team-building, and sportsmanship. In addition, practicing soccer drills increases the fine and gross motor skills which are often weak in individuals on the special needs. Communication and social skills, including the ability to follow-directions, take turns, and having consideration for team mates is practiced as a part of each session.
Our goal is for our team members to learn soccer skills in a supportive environment, to develop a life-long love for exercise, prevent the obesity and to have fun. In addition, through the foundation, we are teaching these young people the importance of giving back to the community. They are learning that individuals with special needs can have a great impact and help others and that nothing is impossible, as long as you have a dream.
Our autism soccer program is registered and approved by Special Olympics of Florida and will be designed as a preparation for the summer program with Special Olympics.
If you would like to run our soccer program in you location please contact:
Oscar Amuz:
e-mail: amuz @autismsoccer.org
Ph.: 305-469-0895
Thank you for supporting your children in this new and unique experience!
Alright race fans, Hot off the heels of a fantastic Miami 500 weekend we've opened up registration for the Homestead 500.
Here they are hot off the presses the results of this weekends Miami 500.  The weekend was a big success for all involved.  We'd like to thank all of the teams, drivers and fans who participated in the event and we hope you all come back next year.  Thanks everyone.